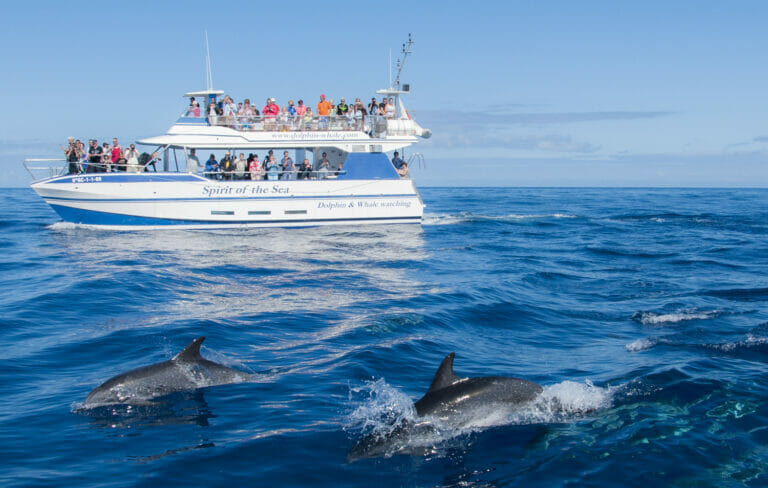 SPIRIT OF THE SEA
El Spirit of the Sea es un catamarán con capacidad para 97 pasajeros.
Construido específicamente para el avistamiento de cetáceos.  Pioneros en esta actividad en la isla.
Fondos de cristal para observar la vida marina por debajo de la superficie.
The waters around Gran Canaria are home to a variety of dolphins and whales all year round, as well as other marine life such as turtles, flying fish, etc.
Las especies más comunes de observar son; ballenas piloto, calderón gris, delfín mular, delfín de diente rugoso, delfín común, delfín moteado, delfín listado, rorcual tropical, rorcual común, cachalote, etc.
EXCURSION INFORMATION
Spirit of the sea sails from Puerto Rico along the southwest coast of the island in search of dolphins and whales in their natural habitat.
The multi –lingual crew ensure everyone is kept up to date with sightings. Throughout the journey people are free to move around the boat.
The trips are either 2 or 3 hour.
                      2 hours trip
 Tuesday -Thursday - Saturday
Departures at 10.00, 12.30 and (15.00 depending on the time of the year)
                                       3 hours trip
Monday - Wednesday - Friday - (Sundays depending on the time of the year)
Departures at 10.00 and 13.30
The only difference between the two excursions is that on the 3-hour tour we stop in a sheltered bay before returning to port so that guests can swim if they wish.
Excursions include unlimited soft drinks and water. Beer and snacks are available for purchase on board.
PRICE
Adult: €38      
Children: 20 €. 
Babies up to 2 years old free of charge    
Transport included in the price to almost all areas between Águila Playa and Mogán.
GUARANTEE
The chances of sightings are close to 100%, but if on any excursion we do not see any cetaceans, we give the client directly on board, a voucher (not including transfer) to repeat the excursion for free (as long as there are free places).
BOOKINGS
We have a transfer service from the hotels and back. The list of stops is available from your agency. If you have any questions, please do not hesitate to call our booking centre, where we will be happy to help you.
Remember that the "Spirit of the Sea" sails every day and bookings can be made every day.
Recomendamos que hagan las reservas mientras el cliente esté con el guía para asegurarse que el habrá excursión o plaza el día escogido.
For enquiries call (+ 34) 928 562229 from 09:00 to 20:00.
Please advise clients to bring a camera and sunscreen, and for those doing the 3-hour tour, to bring a towel and swimwear.
OUR COMMITMENT TO THE ENVIRONMENT
Our customers get free access to digital information about cetaceans in general and the Canary Islands in particular. 
In addition to all this, we rescue animals with problems that we take to the Wildlife Recovery Centre, often turtles entangled in nets or plastic.
We are active in the removal of floating material that may cause injury or danger to marine life.
We collaborate with the university on a one-off basis on research projects and marine scientists in the Canary Islands.
We give presentations and lectures on the cetaceans of the Canary Islands in order to raise awareness about the care of the environment.
We take data from all sightings that we share with the scientific community for the study of cetaceans in the area that we share with the scientific community.