Atlantic spotted dolphin (Stenella frontalis)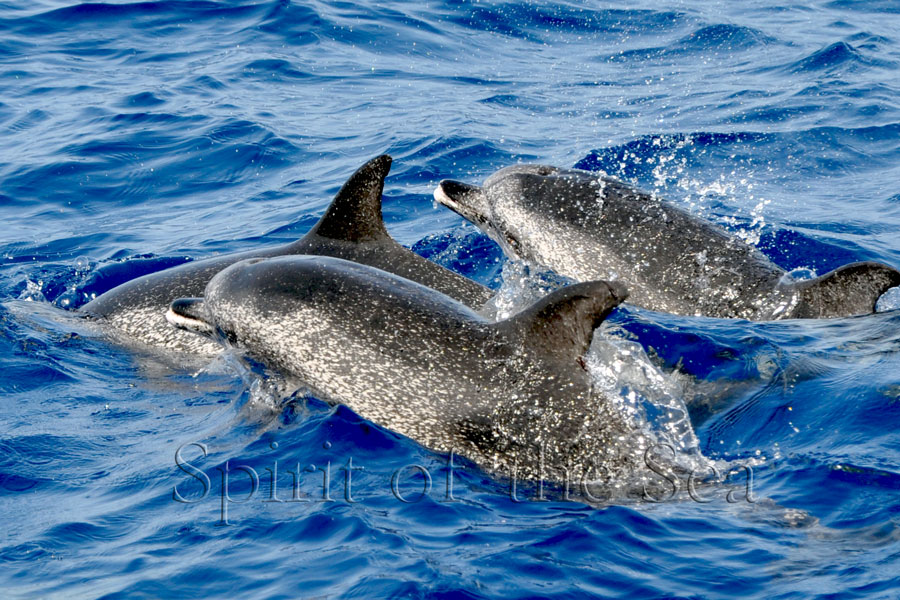 No es difícil deducir de donde le viene el nombre a este delfín. Como puede observarse presenta una gran cantidad de manchas a lo largo de todo el cuerpo, siendo estas claras en las zonas oscuras y oscuras en las zonas claras. 
Gracias a esta coloración es fácilmente identificable, sin embargo estas manchas aparecen a medida que van creciendo careciendo de ellas los mas jóvenes por lo que a veces puede confundirse con el delfín mular. 
Con un tamaño entre los 1.8 y 2.3 metros y al rededor de 130 kg. de peso podemos decir que pertenece al grupo de delfines pequeños, Las hembras son algo mas pequeñas que los machos y las crías miden cerca de 80 cm. al nacer.
They are very curious and active dolphins. They often approach the bow of boats and it is not uncommon to see them jump.

They live in temperate and tropical waters of the Atlantic and feed mainly on small fish and squid.

They are a protected species. Apart from humans, only sharks and killer whales pose a threat to this species.



They can be seen in relatively large groups and sometimes in very large herds.